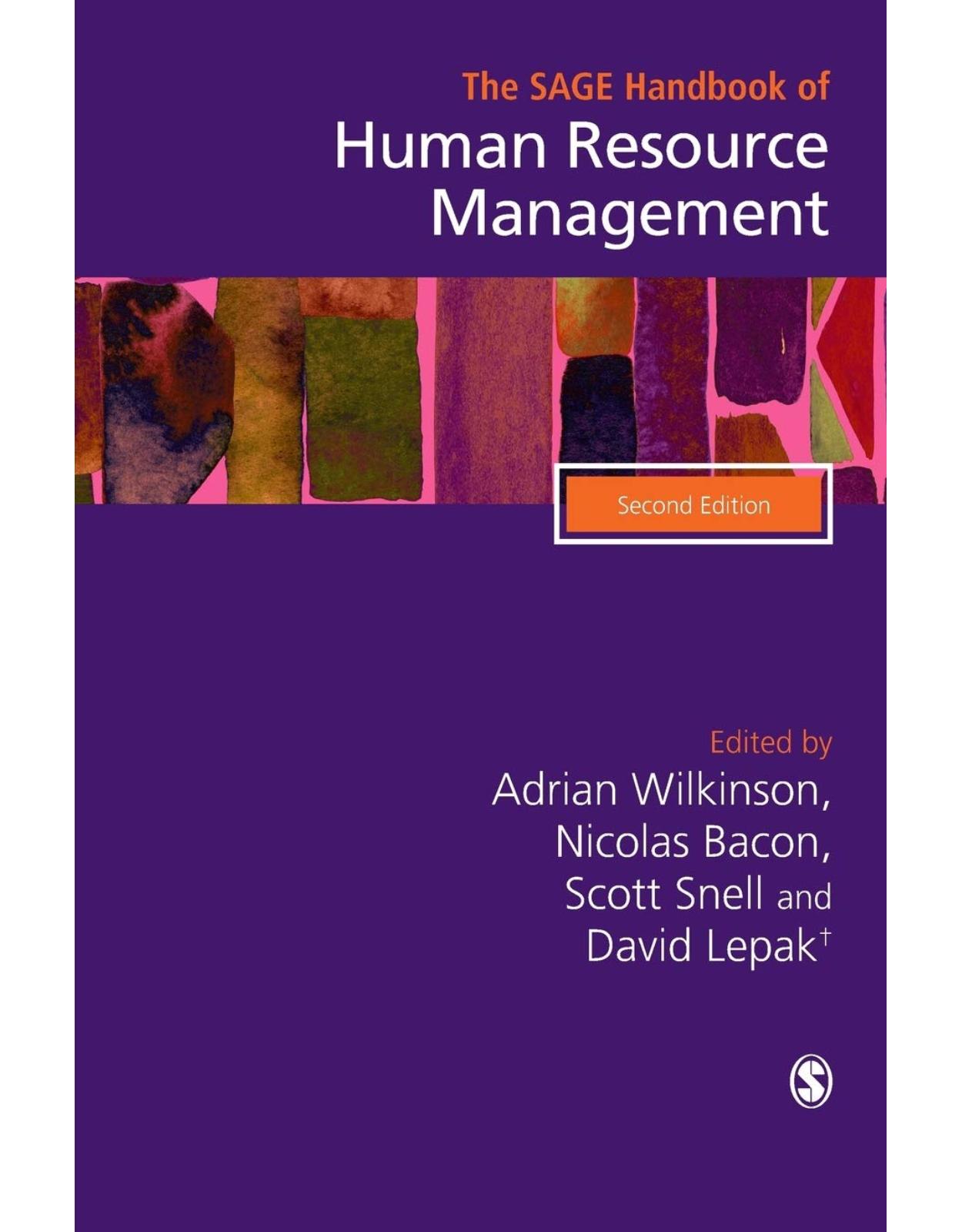 The SAGE Handbook of Human Resource Management
730 Lei

(TVA inclus)
Livrare gratis la comenzi peste 500 RON. Pentru celelalte comenzi livrarea este 20 RON.
Cod produs/ISBN: 9781526435026
Disponibilitate: La comanda in aproximativ 4 saptamani
Dimensiuni: 16.99 x 3.51 x 24.41 cm
Description:
The new edition of this SAGE Handbook builds on the success of the first by providing a fully updated and expanded overview of the field of human resource management. Bringing together contributions from leading international scholars - and with brand new chapters on key emerging topics such as talent management, engagement , e-HRM and big data - the Handbook focuses on familiarising the reader with the fundamentals of applied human resource management, while contextualizing practice within wider theoretical considerations. Internationally minded chapters combine a critical overview with discussion of key debates and research, as well as comprehensively dealing with important emerging interests. The second edition of this Handbook remains an indispensable resource for advanced students and researchers in the field. PART 01: Context of Human Resource Management PART 02: Fundamentals of Human Resource Management PART 03: Contemporary Issues
Table of Contents:
The Changing Field of Human Resource Management
Part I Context of Human Resource Management
1 Human Resource Management: A Historical Perspective
2 Models of Strategic Human Resource Management
3 The Employment Relationship:Key Elements, AlternativeFrames of Reference, and Implications for HRM
4 Regulation, Deregulation or Re-regulation? The Changing Regulative Framework for HRM
5 International Human Resource Management
6 Comparative HRM
7 Managing across Organizational Boundaries: The New Employment Relationship and its Human Resource Management Implications
Part II Fundamentals of Human Resource Management
8 Recruitment and Selection
9 Training, Development and Skills
10 Talent Management: Disentangling Key Ideas
11 Leadership Development: The Shift from 'Ready Now' to 'Ready Able'
12 Understanding Performance Appraisal: Supervisory and Employee Perspectives
13 Compensation
14 HRM, Equality and Diversity
15 Creating and Sustaining Involvement and Participation in the Workplace
16 Exploring Electronic HRM: Management Fashion or Fad?
17 Health, Safety and Well-being
18 Industrial Relations: Changing Trends Across Theory, Policy and Practice
19 Discipline and Grievances
20 Downsizing
21 Employee Engagement: The Past, the Present, and the Future
22 Working Time and Work–Life Balance
23 The Changing Face of Work Design Research: Past, Present, and Future Directions
Part III Contemporary Issues
24 Strategic HRM: Where Do We Go from Here?
25 Human Resource Management in Developing Countries
26 HRM and National Economic Performance
27 Human Resource Management and the Resource-Based View
28 Big Data and Human Resource Management
29 Human Resources and Ethics Management: Partners in (Reducing) Crime
30 HRM in Small Firms: Balancing Informality and Formality
31 HRM in Multinational Companies
32 Human Resource Management in the Public Sector: New Public Management, Responsive Governance and the Consequences of the Economic Crisis1
Index
| | |
| --- | --- |
| An aparitie | 7 May 2019 |
| Autor | Adrian Wilkinson, Nicolas A Bacon, Scott A Snell, David Lepak |
| Dimensiuni | 16.99 x 3.51 x 24.41 cm |
| Editura | Sage Publications |
| Format | Hardcover |
| ISBN | 9781526435026 |
| Limba | Engleza |
| Nr pag | 638 |