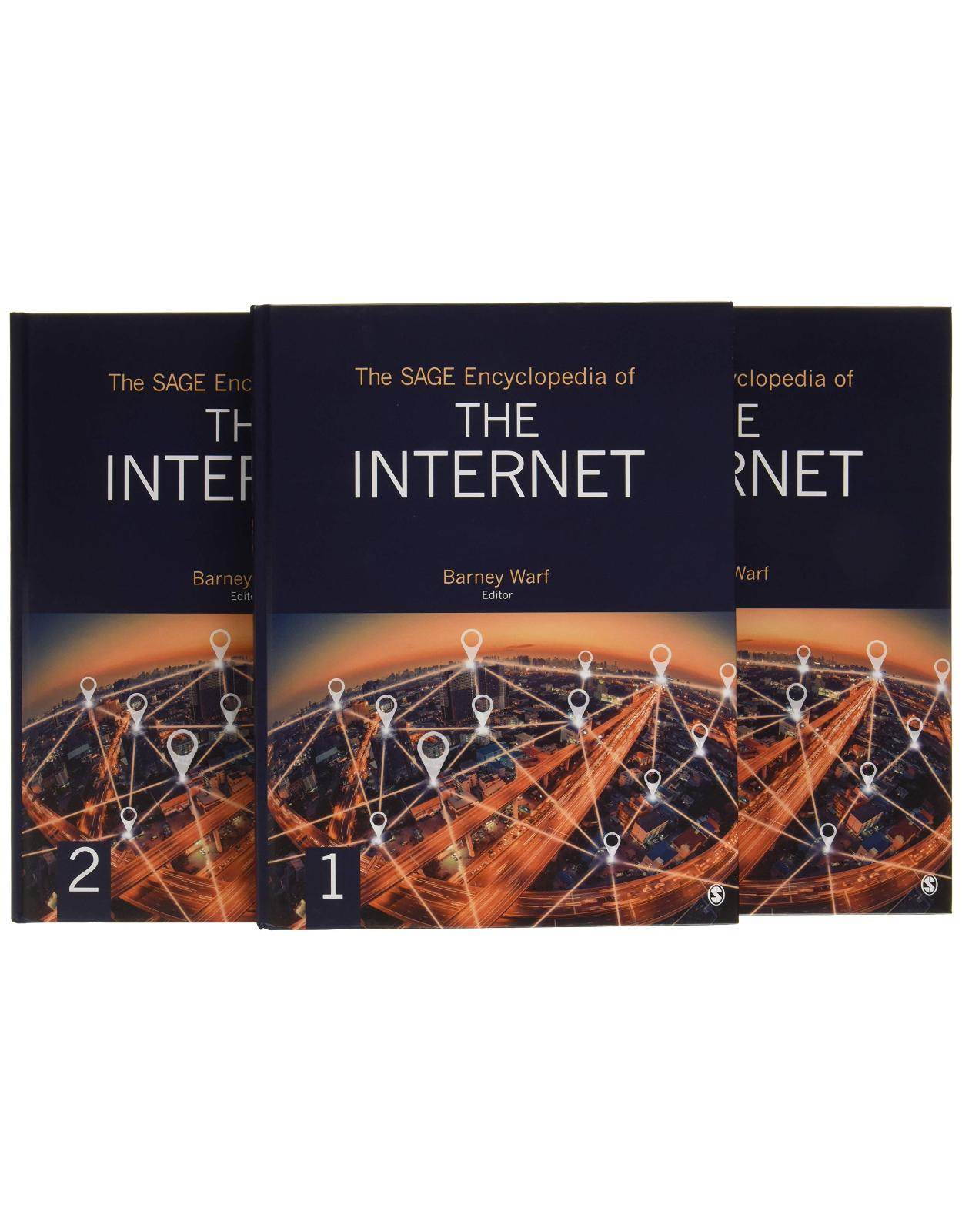 The SAGE Encyclopedia of the Internet: 3
1920.00 lei

(TVA inclus)
Costul de livrare se calculeaza odata cu adaugarea produsului in cos si selectarea localitatii destinatie.
Cod produs/ISBN: 9781473926615
Disponibilitate: La comanda in aproximativ 4 saptamani
Dimensiuni: 22.35 x 7.37 x 28.7 cm
Description:
The Internet needs no introduction, and its significance today can hardly be exaggerated. Today, more people are more connected technologically to one another than at any other time in human existence. For a large share of the world's people, the Internet, text messaging, and various other forms of digital social media such as Facebook have become thoroughly woven into the routines and rhythms of daily life. The Internet has transformed how we seek information, communicate, entertain ourselves, find partners, and, increasingly, it shapes our notions of identity and community. The SAGE Encyclopedia of the Internet addresses the many related topics pertaining to cyberspace, email, the World Wide Web, and social media. Entries will range from popular topics such as Alibaba and YouTube to important current controversies such as Net neutrality and cyberterrorism. The goal of the encyclopedia is to provide the most comprehensive collection of authoritative entries on the Internet available, written in a style accessible to academic and non-academic audiences alike.
Table of Contents:
Introduction
A
Adware
Agriculture and the Internet
AI Safety
Algorithmic Selection on the Internet
Alibaba
Amazon
Anonymous
Apps
ARPANET
Artificial Intelligence
Augmented Reality
B
Back Offices, Call Centers, and the Internet
Baidu
Biometrics
Bitcoin
BITNET
Blind People and the Internet
Blockchain
Blogs
Botnet
Broadband Internet
Broadband Internet Affordability
C
CAPTCHA
Chat Rooms
Child Pornography and the Internet
Children, Adolescents, and the Internet
Citizen Science
Clicktivism
Cloud Computing
Cookies
Crime and the Internet
Crowdfunding
Crowdsourcing
Cryptocurrencies
Cyberactivism
Cyberbullying
Cybercafés
Cybercrime
Cyberespionage
Cyberinfrastructure
Cyberoptimism and Cyberpessimism
Cybersecurity
Cyberspace
Cybersquatting
Cyberstalking
Cyberterrorism
Cyberwarfare
Cyberwellness
Cyclades
D
Dark Web
DARPANET
Declaration of the Independence of Cyberspace
Deep Packet Inspection
Deep Web
Diasporas and the Internet
Digital Divides, Age and
Digital Divides, Disability and
Digital Divides, Ethnicity and
Digital Divides, Gender and
Digital Divides, Geography of
Digital Divides, Global
Digital Divides, Language and
Digital Earth
Digital Humanities
Digital Natives
Digital Steganography
Digital Watermarking
Distance Education
Distributed Denial-of-Service Attack
Domain Name
Domain Name System
Doxing
E
eBay
e-Commerce: Business-to-Business
e-Commerce: Business-to-Consumer
e-Commerce: Business-to-Government
Economic Development and the Internet
Education and the Internet: Colleges and Universities
Education and the Internet: Elementary and Secondary Schools
e-Government
e-Health
Elderly People and the Internet
Elections and the Internet
Electronic Frontier Foundation
Electronic Literature
Electronic Mailing Lists
Electronic Signatures
Email
Emojis and Emoticons
Energy Use and the Internet
e-Tailing
Ethernet
Ethnographic Research and the Internet
F
Facebook
Fake News
Fiber Optics and the Internet
File Sharing
File Transfer Protocol
Firewalls
Flaming
Freenet
G
Geoblocking
Geoweb
Google
Google Earth
Gopher
Great Firewall
H
Hacking
Hacktivism
Hashtag
Health Care and the Internet
History of the Internet
Hyperlink
Hypertext Markup Language
Hypertext Transfer Protocol
I
Identity Theft
Internet Activism
Internet Addiction
Internet Advertising
Internet Architecture Board
Internet Assigned Numbers Authority
Internet Backbone Networks
Internet Banking
Internet Censorship
Internet Connectivity
Internet Corporation for Assigned Names and Numbers
Internet Data Centers
Internet Dating
Internet Engineering Task Force
Internet Fraud
Internet Gambling
Internet Gaming
Internet GIS
Internet Governance
Internet Law
Internet Mapping
Internet Memes
Internet Movie Database
Internet Nonusers
Internet of Things
Internet Origins and History
Internet Pornography
Internet Privacy
Internet Recruiting
Internet Routing
Internet Security
Internet Service Providers
Internet Slang
Internet Society
Internet Standards
Internet Surveillance
Internet Taxation
Internet Telephony
IP Addresses
iPhones
J
Journalism and the Internet
L
Libraries and the Internet
LISTSERV
Local Area Networks
Location-Based Services
M
Malware
Manufacturing and the Internet
Massive Open Online Courses
MercadoLibre
m-Government
Microblogs
Military Internet
Mobile Internet
MOOCs
Municipal Broadband
Music and the Internet
Myspace
N
National Security Agency Surveillance
Neogeography
Net Neutrality
Netflix
Netiquette
Netizen
NSFNET
O
One Laptop per Child
Online Social Networks
P
Packet Switching
PayPal
Peer-to-Peer Networks
Phishing
Photo Sharing Applications
Podcasting
Project Loon
Q
QQ
R
Racism and the Internet
Ransomware
Religion and the Internet
Retail Trade and the Internet
Right to Be Forgotten
Right to Internet Access
Rural Areas and the Internet
S
Satellite Internet
Search Engine
Semantic Web
Sexism and the Internet
Sexting
Sexual Harassment and the Internet
Sharing Economy and the Internet
Skype
Slacktivism
Smart Cities
Smart Energy Systems
Smart Grids
Smartphone Apps
Smartphones
Social Media
Social Movements and the Internet
Spam
Sports and the Internet
Spyware
Stuxnet
T
TCP/IP
Telecenters
Telecommuting
Telemedicine
Television and the Internet
Telework
Tencent
Terrorism and the Internet
Texting
Tor
Tourism and the Internet
Traceroute
Transportation and the Internet
Trojans
Troll
Twitter
U
Uniform Resource Locator
Usenet
V
Video Conferences
Video Games and the Internet
Virtual Private Networks
Virtual Reality
Virtual Teams
Viruses
Voice over Internet Protocol
Volunteered Geographic Information
W
Wearable Technologies
Web 2.0
Web Browsers
Web Design
Web GIS
Web Mining
Web Programming
Webinars
Webometrics
Website and Webpage
WeChat
Weibo
WELL, The
Whole Earth 'Lectronic Link
Wide Area Networks
Wi-Fi
WikiLeaks
Wikipedia
Wireless Internet
World Wide Web
World Wide Web Consortium
Worms
Y
Yahoo
YouTube
Index
An aparitie: 30 May 2018
Autor: Barney Warf
Dimensiuni: 22.35 x 7.37 x 28.7 cm
Editura: Sage Publications
Format: Hardcover
ISBN: 9781473926615
Limba: Engleza
Nr Pag: 1120
La comanda in aproximativ 4 saptamani

La comanda in aproximativ 4 saptamani

La comanda in aproximativ 4 saptamani

Pe comanda in aproximativ 4 saptamani

Pe comanda in aproximativ 4 saptamani