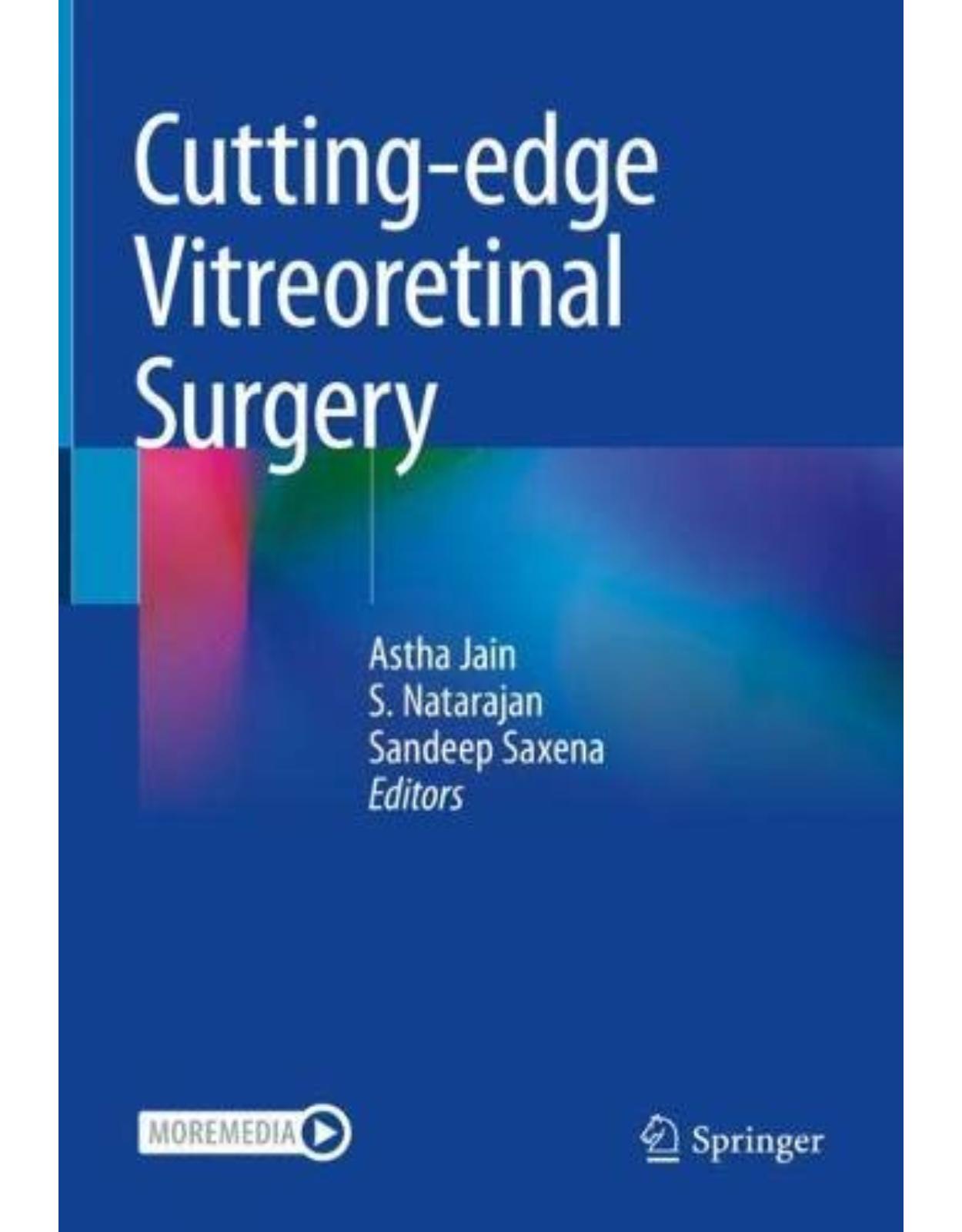 Cutting-edge Vitreoretinal Surgery
899 lei
786.00 lei

(TVA inclus)
Costul de livrare se calculeaza odata cu adaugarea produsului in cos si selectarea localitatii destinatie.
Cod produs/ISBN: 9789813341678
Disponibilitate: La comanda in aproximativ 4 saptamani
Dimensiuni: 17.81 x 25.4 cm
An aparitie: 16 Feb. 2021
Description:
This book covers the entire range of vitreoretinal surgeries. The first section covers essential information about the anatomy and the appropriate diagnostic techniques which helps in preoperative evaluation. The second section is on surgical instrumentation, and includes adjuncts used in VR surgery. Advanced instrumentation such as 3D visualization system, endoscopic vitrectomy and robotic surgeries are well described in the chapters. The later sections deal with the surgical technique for different disease entities. Management of posterior segment complication of anterior segment surgeries such as cataract and keratoprosthesis are reviewed in detail. A section on gene therapy has been incorporated. This book will help the reader to gather a detailed round-up of basics of and advances made in the field of vitreoretinal surgery. It is supplemented with videos. This book is meant for practicing retinal surgeons, those in training as well as students with interest in vitreoretinal surgery.
Table of Contents:
Part I. Introduction to Vitreoretinal Surgery
1. History of Vitreoretinal Surgery
Part II. Surgical Anatomy, Imaging and Anaesthesia in Vitreoretinal Surgery
2. Surgical Anatomy of Vitreous
3. Investigations Aiding in Vitreoretinal Surgery
4. Anaesthesia for Vitreoretinal Surgery
Part III. Techniques and Instrumentation in Vitreoretinal Surgery
5. Vitreoretinal Surgery Instruments
6. Wide-Angle Viewing System and Endoillumimnation
7. Sutureless Small-Gauge Vitrectomy
8. Endoscopic Vitrectomy
9. 3D Viewing System in Vitreoretinal Surgery
10. Robotics in Vitreoretinal Surgeries
11. Tamponading Agents in Vitreoretinal Surgery
Part IV. Retinal Detachment: Surgical Techniques
12. Scleral Buckling and Management of Retinal Dialysis
13. Pneumatic Retinopexy
14. Primary Vitrectomy in Rhegmatogenous Retinal Detachment
15. Principles in the Management of Proliferative Vitreoretinopathy
16. Giant Retinal Tear
17. Management of Retinal Detachment in Eyes with Coloboma of Choroid
Part V. Retinal Vascular Disorders
18. Surgical Management of High Risk Proliferative Diabetic Retinopathy: Vitreous Hemorrhage, Tractional Retinal Detachment, and Combined Tractional-Rhegmatogenous Retinal Detachment
19. Surgical Management of Diabetic Macular Edema
20. Vitreoretinal Surgery in Eales' Disease
21. Management of Coats' Disease
Part VI. Macular Surgery
22. Surgical Techniques of Macular Hole Repair
23. Management of Vitreo-macular Traction and Epiretinal Membrane
24. Management of Submacular Hemorrhage
25. Management of Foveoschisis
26. Myopic Traction Maculopathy: Guidelines to Treatment
27. Management of Maculopathy Due to Optic Disc Pit
Part VII. Ocular Trauma
28. Posterior Segment Complications of Ocular Trauma
29. Surgical Techniques of Intraocular Foreign Body Removal
Part VIII. Endophthalmitis
30. Management of Endophthalmitis
Part IX. Uveitis
31. Vitrectomy in Uveitis
32. Viral Retinitis-Related Retinal Detachment
33. Vitreoretinal Surgery for Parasitic Diseases
Part X. Gene Therapy
34. Gene Therapy for Inherited Retinal Disease
35. Retinal Surgical Techniques for Gene Therapy
Part XI. Miscellaneous
36. Surgical Management of Retinopathy of Prematurity
37. Management of Posteriorly Dislocated Nucleus and Intraocular Lens
38. Management of Suprachoroidal Hemorrhage
39. Keratoprosthesis in Vitreoretinal Surgery
40. Phaco-vitrectomy
41. Artificial Vision and Retinal Prosthesis
42. Surgical Self-Education
43. Retinal Practice in COVID-19 Era
An aparitie: 16 Feb. 2021
Autor: Astha Jain, S. Natarajan, Sandeep Saxena
Dimensiuni: 17.81 x 25.4 cm
Editura: Springer
Format: Hardcover
ISBN: 9789813341678
Limba: Engleza
Nr Pag: 450