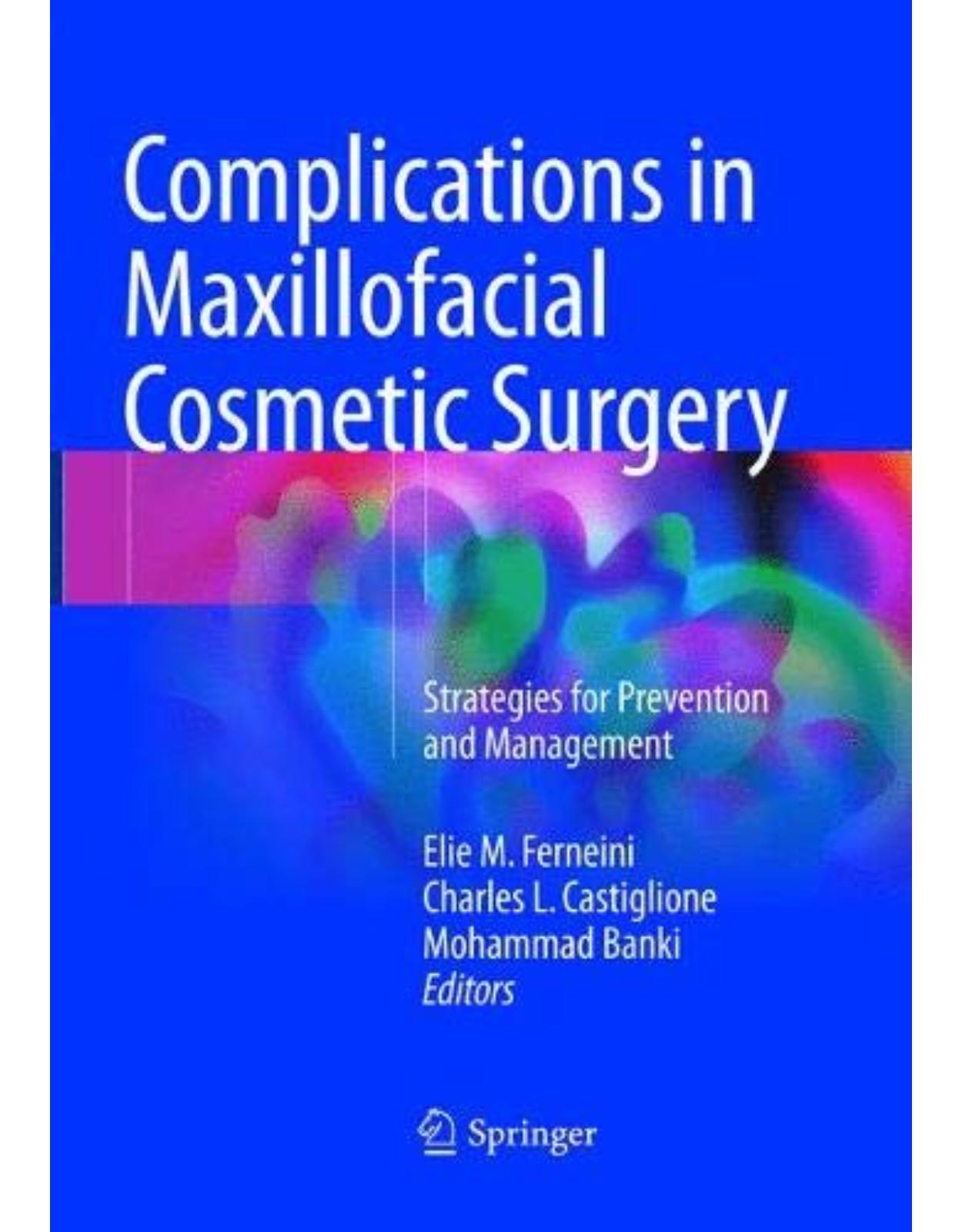 Complications in Maxillofacial Cosmetic Surgery: Strategies for Prevention and Management
618 lei
550.00 lei

(TVA inclus)
Costul de livrare se calculeaza odata cu adaugarea produsului in cos si selectarea localitatii destinatie.
Cod produs/ISBN: 9783319864679
Disponibilitate: La comanda in aproximativ 4 saptamani
Dimensiuni: 17.8 x 25.4 cm
This book is designed to offer practitioners clear, up-to-date guidance on the management of complications associated with maxillofacial cosmetic surgery. The first section provides a detailed overview of general topics relating to cosmetic surgery patients, including assessment, anesthesia and medical complications, wound healing, postoperative infection, pain management, and medicolegal issues. The second section then discusses the nature and management of the complications associated with each maxillofacial cosmetic surgery procedure, from laser treatment and use of neuromodulators and soft tissue fillers to orthognathic surgery, rhinoplasty, neck procedures, rhytidectomy, genioplasty, and facial implants. Complications in Maxillofacial Cosmetic Surgery is multi-authored, multi-institutional, and multi-specialty based. It will be of value for a range of health care providers who practice in the head and neck area, including oral and maxillofacial surgeons, otolaryngologists, plastic and reconstructive surgeons, dermatologists, and cosmetic surgeons.
Table of contents (20 chapters)
History of the Facelift: The First Three Decades
Pages 3-12
Petro, Jane A., M.D., F.A.C.S., F.A.A.C.S.
Patient Assessment and Evaluation
Pages 13-22
Tfaili, Y., M.D. (et al.)
Cosmetic Patient Evaluation
Pages 23-35
Zhu, Tian Ran, M.D. (et al.)
Pages 37-45
Hashim, Peter W., M.D., M.H.S. (et al.)
Improving Pain Management in Maxillofacial Cosmetic Surgical Procedures
Pages 47-58
Rizk, Marwan S., M.D. (et al.)
Medical Complications Following Maxillofacial Surgery
Pages 59-72
Ward, Henry, M.D., F.A.C.C., F.A.C.P. (et al.)
Anesthesia Complications: Management and Prevention
Pages 73-90
Ferneini, Elie M., M.D., D.M.D., M.H.S., M.B.A. (et al.)
Pages 91-104
Kim, Scott, D.D.S., M.D. (et al.)
Managing Medicolegal Issues Surrounding Esthetic Facial Surgery
Pages 105-121
Durant, Christy B., J.D. (et al.)
Complications of Facial Resurfacing
Pages 125-130
L'Heureux, Luke, D.M.D., M.D. (et al.)
Pages 131-140
Sureddi, Prasad S., M.D. (et al.)
Complications in the Cosmetic Use of Botulinum Toxin Type A: Prevention and Management
Pages 141-150
Florin, Whitney, M.D., D.D.S. (et al.)
Soft Tissue Fillers and an Overview of Their Potential Complications
Pages 151-157
Bucking, Paul M., D.M.D., M.D. (et al.)
Complications of Orthognathic Surgery
Pages 159-181
Paletta, Frank, M.D., D.M.D., F.A.C.S. (et al.)
Complications of Blepharoplasty
Pages 183-197
Wu, Connie, M.D. (et al.)Complications Associated with Rhytidectomy (Facelift Surgery): Avoidance and Correction
Pages 199-207
Vega, Daniella, M.D. (et al.)
Pages 209-219
Nuveen, Erik, M.D., D.M.D., F.A.A.C.S. (et al.)
Pages 221-228
Farshidi, Farzin, D.D.S., M.D. (et al.)
Complications of Genioplasty
Pages 229-235
Sood, Amit, D.M.D., M.D. (et al.)
Pages 237-249
Ferneini, Elie M., M.D., D.M.D., M.H.S., F.A.C.S. (et al.)
An aparitie: 4 Jun. 2019
Autor: Elie M. Ferneini , Charles L. Castiglione , Mohammad Banki
Dimensiuni: 17.8 x 25.4 cm
Editura: Springer
Format: Paperback
ISBN: 9783319864679
Limba: Engleza
Nr pag: 249