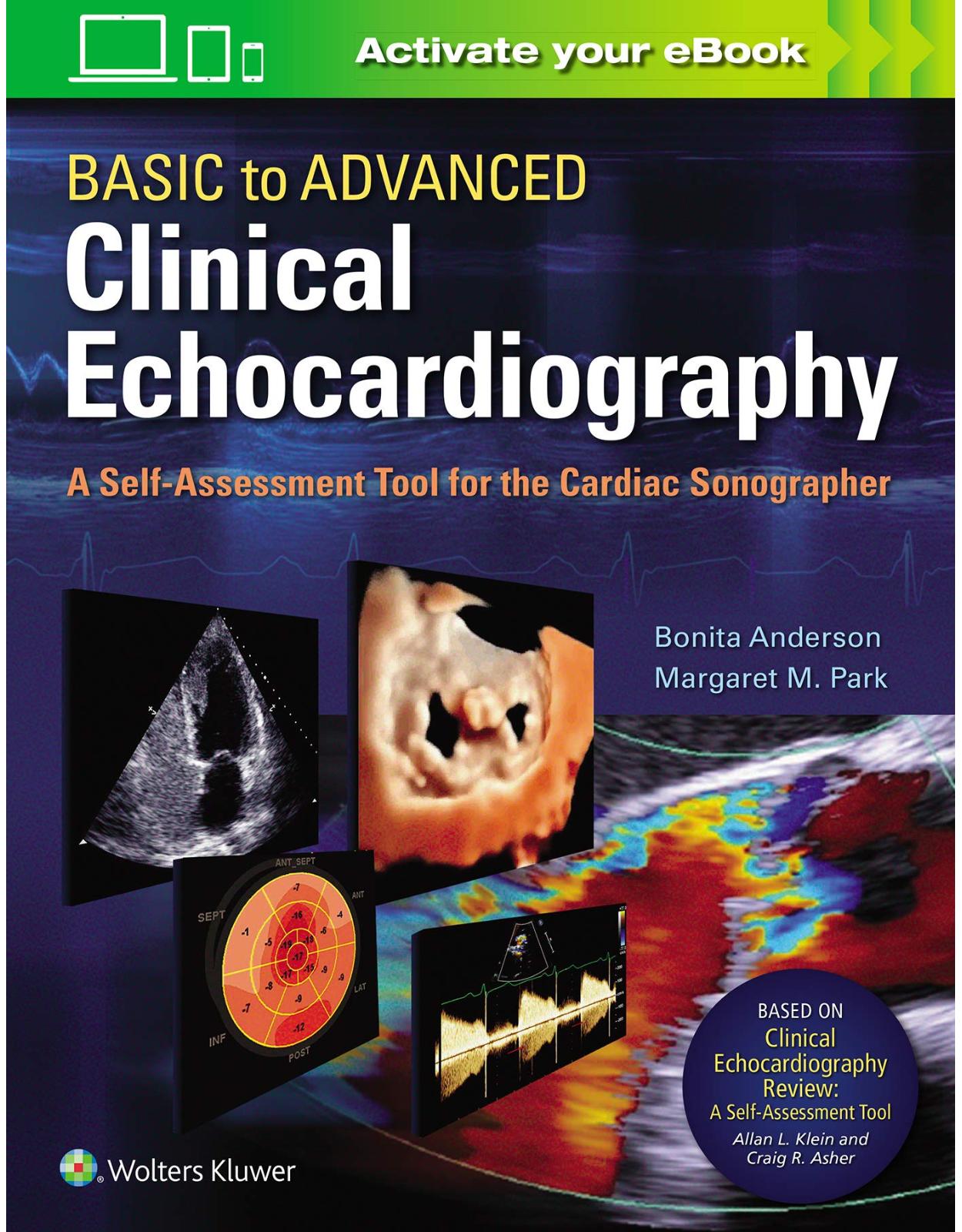 Basic to Advanced Clinical Echocardiography. A Self-Assessment Tool for the Cardiac Sonographer
465 lei
440.00 lei

(TVA inclus)
Costul de livrare se calculeaza odata cu adaugarea produsului in cos si selectarea localitatii destinatie.
Cod produs/ISBN: 9781975136253
Disponibilitate: La comanda in aproximativ 4 saptamani
Dimensiuni: 15.3 x 22.9 cm
Description:
A unique resource, this book is designed to determine not only your level of expertise and applicability of knowledge but also serve as an up-to-date clinical resource in the practice of cardiac sonography. This powerful, long-needed resource presents the essentials of clinical echocardiography in a precise Q&A format fashioned after Clinical Echocardiography Review A Self-Assessment Tool edited by Allan L. Klein and Craig R. Asher. Whether you are just beginning your training, are already preparing for your examination, or simply want to review and increase your knowledge depth, this easy-to-use resource will help you develop the knowledge and skills you need for success.
Table of Contents:
Interactive Presentation
1 Cardiac Anatomy and Embryology
2 Cardiac Physiology
3 Electrocardiography
4 Basic Principles of Ultrasound Imaging
5 Imaging Artifacts
6 Two-Dimensional Examination
7 M-Mode Echocardiography
8 Spectral Doppler Examination
9 Color Doppler Examination
10 Hemodynamics
11 Left Ventricular Systolic Function
12 Left Ventricular Diastology
13 Systemic Hypertension
14 Right Ventricle
15 Pulmonary Hypertension
16 Ischemic Heart Disease and Complications of Myocardial Infarctions
17 Cardiomyopathies
18 Diseases of Aorta
19 Aortic Valve Disease
20 Mitral Valve Disease
21 Tricuspid and Pulmonary Valve Disease
22 Prosthetic Valves
23 Infective Endocarditis
24 Tumors, Masses, and Sources of Emboli
25 Pericardial Disease
26 Systemic Diseases
27 Noncyanotic Congenital Heart Disease
28 Cyanotic Congenital Heart Disease
29 Adult Congenital Heart Disease
30 Three-Dimensional Echocardiography
31 Myocardial Mechanics and Strain Imaging
32 Ultrasound Enhancing Agents
33 Stress Echocardiography: Ischemic and Nonischemic Heart Disease
34 Cardiac Shock and Emergency Echocardiography
35 Transesophageal Echocardiography
36 Interventional and Other Advanced Techniques and Procedures
37 Research Methods and Biostatistics
38 Quality Assurance and Laboratory Management
Static Presentation
1 Cardiac Anatomy and Embryology
2 Cardiac Physiology
3 Electrocardiography
4 Basic Principles of Ultrasound Imaging
5 Imaging Artifacts
6 Two-Dimensional Examination
7 M-Mode Echocardiography
8 Spectral Doppler Examination
9 Color Doppler Examination
10 Hemodynamics
11 Left Ventricular Systolic Function
12 Left Ventricular Diastology
13 Systemic Hypertension
14 Right Ventricle
15 Pulmonary Hypertension
16 Ischemic Heart Disease and Complications of Myocardial Infarctions
17 Cardiomyopathies
18 Diseases of Aorta
19 Aortic Valve Disease
20 Mitral Valve Disease
21 Tricuspid and Pulmonary Valve Disease
22 Prosthetic Valves
23 Infective Endocarditis
24 Tumors, Masses, and Sources of Emboli
25 Pericardial Disease
26 Systemic Diseases
27 Noncyanotic Congenital Heart Disease
28 Cyanotic Congenital Heart Disease
29 Adult Congenital Heart Disease
30 Three-Dimensional Echocardiography
31 Myocardial Mechanics and Strain Imaging
32 Ultrasound Enhancing Agents
33 Stress Echocardiography: Ischemic and Nonischemic Heart Disease
34 Cardiac Shock and Emergency Echocardiography
35 Transesophageal Echocardiography
36 Interventional and Other Advanced Techniques and Procedures
37 Research Methods and Biostatistics
38 Quality Assurance and Laboratory Management
Appendix: Equations and Formulas
Index
An aparitie: 1 Jun. 2020
Autor: Bonita Anderson , Margaret Park
Dimensiuni: 15.3 x 22.9 cm
Editura: LWW
Format: Paperback
ISBN: 9781975136253
Limba: Engleza
Nr Pag: 650
La comanda in aproximativ 4 saptamani

La comanda in aproximativ 4 saptamani

La comanda in aproximativ 4 saptamani

La comanda in aproximativ 4 saptamani

La comanda in aproximativ 4 saptamani