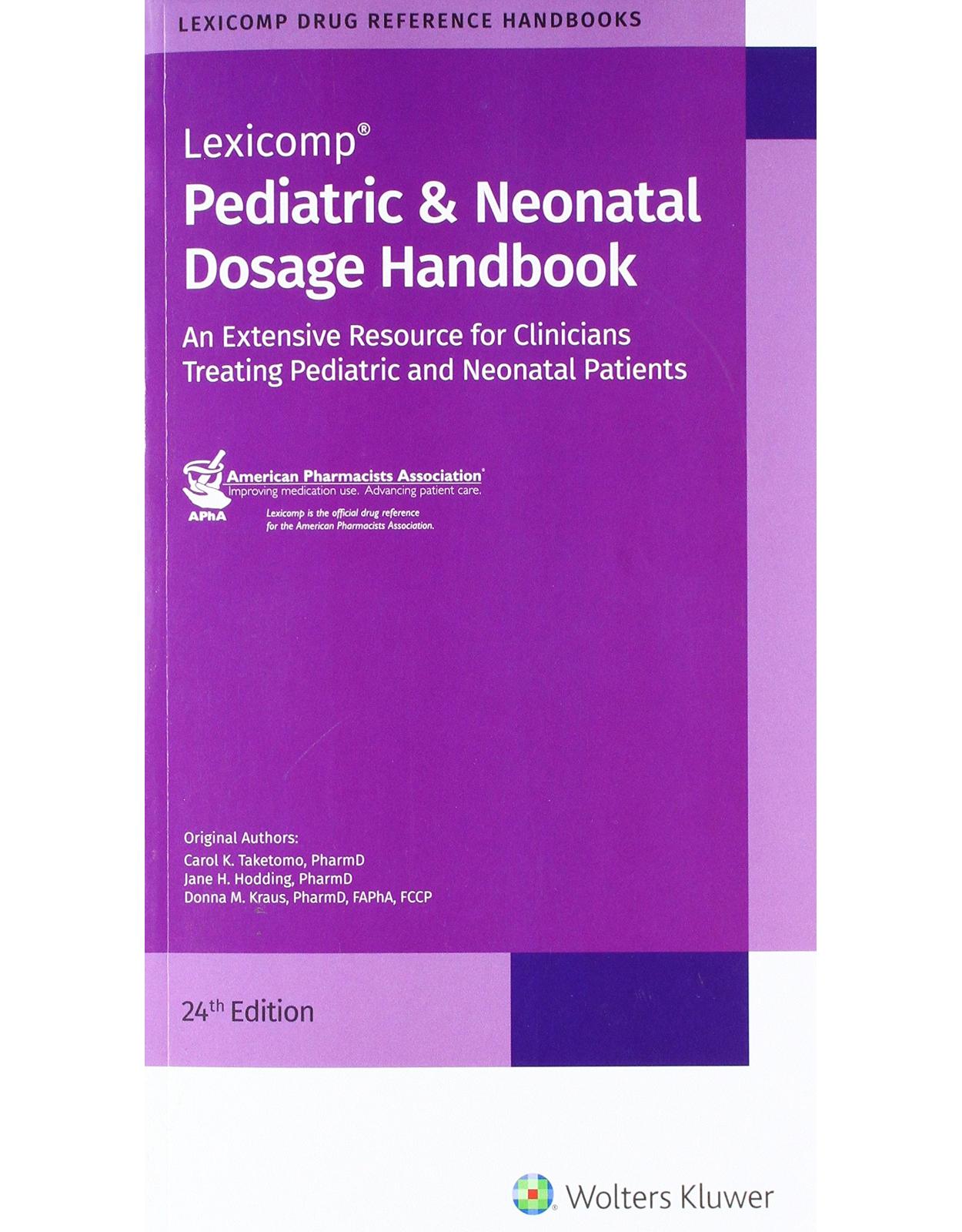 Pediatric & Neonatal Dosage Handbook (Standard/US Edition)
460.00 lei

(TVA inclus)
Costul de livrare se calculeaza odata cu adaugarea produsului in cos si selectarea localitatii destinatie.
Cod produs/ISBN: 9781591953654
Disponibilitate: Ultima bucata in stoc
Dimensiuni: 27.9 x 15.5 x 6.1 cm
Overview
The Lexicomp Pediatric & Neonatal Dosage Handbook, 24th edition, is a valuable point-of-care dosing resource designed to support medical professionals managing pediatric and neonatal patients.
Benefits
The Pediatric & Neonatal Dosing Handbook includes more than 1,000 drug monographs featuring concise fields of information specific to neonates and children. It follows a convenient, dictionary-like format, with drug products alphabetically organized and cross-referenced by U.S. and Canadian brand names.
Clear, concise and relevant Lexicomp drug information is supplemented by an extensive Appendix of comparative charts, tables and supportive information, as well as a Therapeutic Category & Key Word Index.
Includes:
1088 drug monographs

Up to 44 Fields of Information per Monograph

More than 140 Extemporaneous Preparation Recipes

More than 120 Pages of Appendix Information
40 New Drug Monographs

New Fields of Information:

Hazardous Drug Handling Considerations

Pharmacodynamics/Kinetics: Additional Pediatric Considerations

Updates to Hundreds of Existing Monographs, Including Updates Based on New Guideline Recommendations

New Appendix Topics:

Updated Appendix Topics:

Carbohydrate Content of Medications
Immunization Administration Recommendations
An aparitie: 28 Jul 2017
Autor: Carol K. Taketomo
Dimensiuni: 27.9 x 15.5 x 6.1 cm
Editura: Lexi-Comp,U.S.
Format: Paperback
ISBN: 9781591953654
Limba: Engleza
Nr pag: 2062