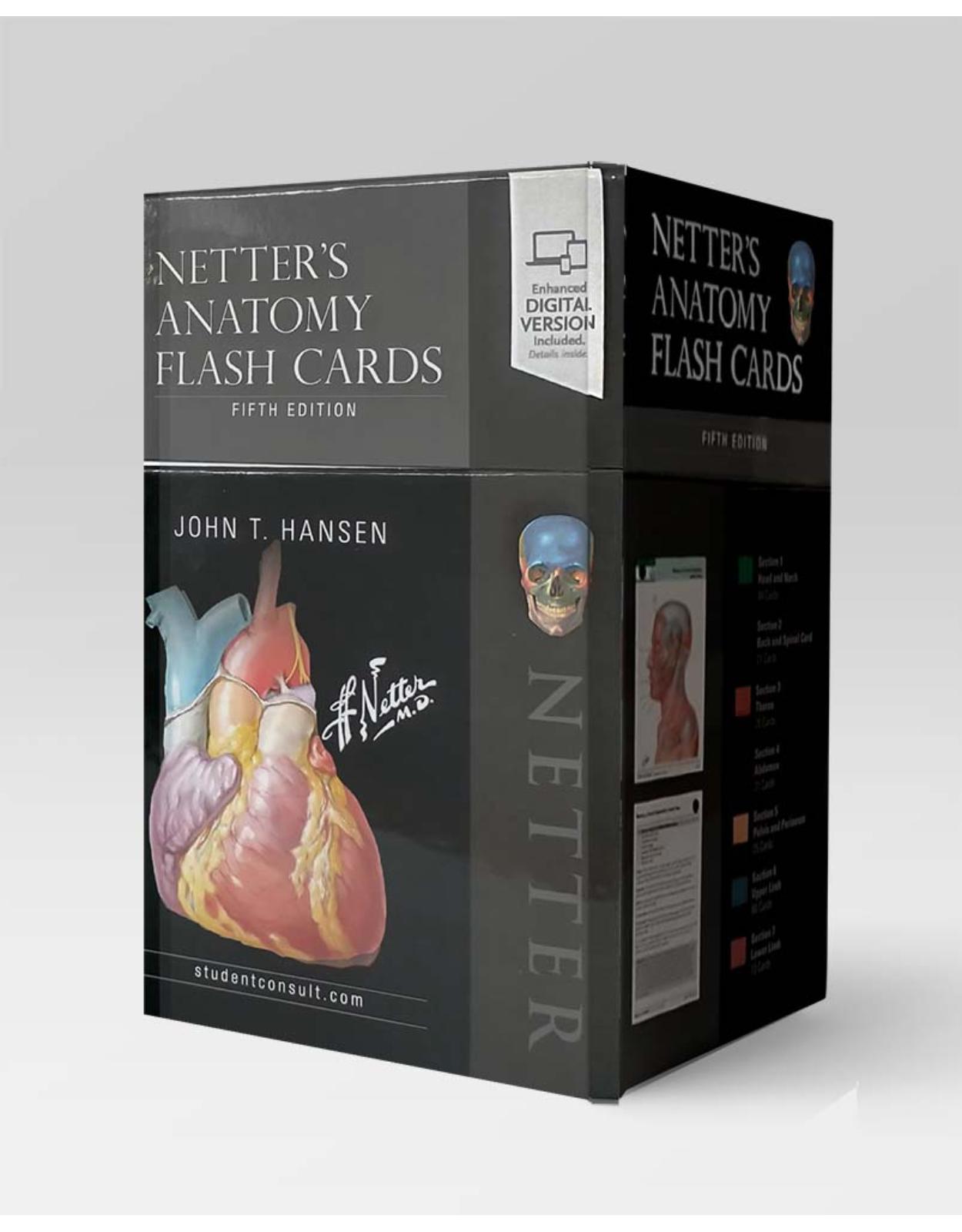 Netter s Anatomy Flash Cards, 5e (Netter Basic Science)
200 lei
180.00 lei

(TVA inclus)
Costul de livrare se calculeaza odata cu adaugarea produsului in cos si selectarea localitatii destinatie.
Cod produs/ISBN: 9780323530507
Dimensiuni: 10.8 x 10.2 x 17.1 cm
Description:
Learn the essential anatomy you need to know – quickly and easily! Each flash card in this full-color deck features high-quality Netter art (and several new paintings by Dr. Carlos Machado), numbered labels, and concise comments and clinical notes for the most commonly tested anatomy terms and concepts. Focusing on clinically relevant anatomy, this easy-to-use, portable study tool helps you learn anatomical structures with confidence!
·  1 Head and Neck
·  Bones and Joints
·  Muscles
·  Nerves
·  Vessels
·  Viscera
·  1-76 Lacrimal Apparatus
·  1-77 Eyeball: Horizontal Section
·  1-78 Anterior and Posterior Chambers of the Eye
·  1-79 Ear: Frontal Section
·  1-80 Tympanic Cavity
·  1-81 Lateral Wall of Nasal Cavity
·  1-82 Salivary Glands
·  1-83 Parathyroid and Thyroid Glands: Posterior View
·  1-84 Pharynx: Opened Posterior View
·  2 Back and Spinal Cord
·  Bones and Joints
·  Muscles
·  Nerves
·  Vessels
·  3 Thorax
·  Bones and Joints
·  Muscles
·  Nerves
·  Vessels
·  Viscera
·  3-17 Lungs in Situ: Anterior View
·  3-18 Lungs: Medial Views
·  3-19 Heart in Situ
·  3-20 Pericardial Sac
·  3-21 Right Atrium
·  3-22 Right Ventricle
·  3-23 Left Atrium and Ventricle: Flap Opened in Posterolateral Wall of Left Ventricle
·  3-24 Left Atrium and Ventricle: Section with Mitral Valve Cut Away
·  3-25 Valves and Fibrous Skeleton of Heart
·  3-26 Mediastinum: Cross Section at Level of T8 Vertebra
·  4 Abdomen
·  Bones and Joints
·  Muscles
·  Nerves
·  Vessels
·  4-14 Inguinal Canal and Spermatic Cord
·  4-15 Arteries of Stomach, Liver, and Spleen
·  4-16 Arteries of Large Intestine
·  4-17 Arteries of Posterior Abdominal Wall
·  4-18 Renal Artery and Vein in Situ
·  4-19 Veins of Posterior Abdominal Wall
·  4-20 Hepatic Portal Vein Tributaries: Portacaval Anastomoses
·  Viscera
·  4-28 Gross Structure of Kidney
·  4-29 Abdominal Wall and Viscera: Median (Sagittal) Section
·  4-30 Schematic Cross Section of Abdomen at T12
·  4-31 Schematic Cross Section of Abdomen at L2 and L3
·  5 Pelvis and Perineum
·  Bones and Joints
·  Muscles
·  Nerves
·  Vessels
·  Viscera
·  6 Upper Limb
·  Bones and Joints
·  Muscles
·  Nerves
·  Vessels
·  7 Lower Limb
·  Bones and Joints
·  Muscles
·  Nerves
·  Vessels
·  Cardiovascular
An aparitie: 19 Feb 2018
Autor: John T. Hansen PhD
Dimensiuni: 10.8 x 10.2 x 17.1 cm
Editura: Elsevier
Format: Flash card
ISBN: 9780323530507
Limba: Engleza
Nr Pag: 688
La comanda in aproximativ 4 saptamani

Pe comanda in aproximativ 4 saptamani

La comanda in aproximativ 4 saptamani

La comanda in aproximativ 4 saptamani