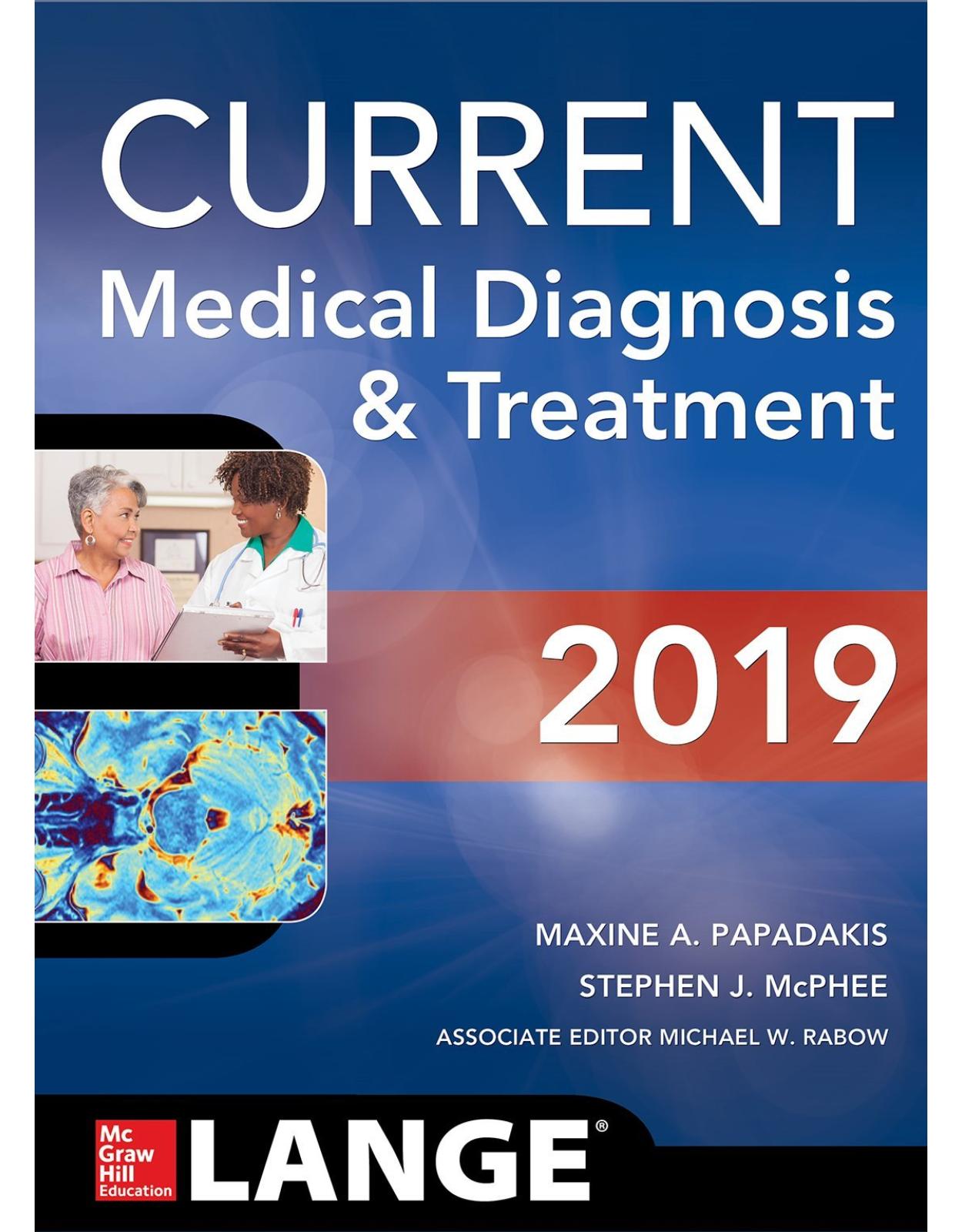 CURRENT Medical Diagnosis and Treatment 2019
210.00 lei

(TVA inclus)
Costul de livrare se calculeaza odata cu adaugarea produsului in cos si selectarea localitatii destinatie.
Cod produs/ISBN: 9781260117431
Disponibilitate: La comanda in aproximativ 4 saptamani
Dimensiuni: 17.8 x 6.4 x 25.4 cm
 Written by clinicians renowned in their respective fields, CMDT offers the most current insight into epidemiology, symptoms, signs, and treatment for more than 1,000 diseases and disorders. For each topic, you'll find concise, evidence-based answers to questions about hospital and ambulatory medicine. This streamlined clinical companion is the fastest and easiest way to keep abreast of the latest diagnostic advances, prevention strategies, and cost-effective treatments. 
Features and content critical to clinical practice: 
•Strong emphasis on the practical aspects of clinical diagnosis and patient management in all fields of internal medicine
•Full review of all internal medicine and primary care topics, including gynecology and obstetrics, dermatology, neurology, ophthalmology, geriatrics, and palliative care 
•Update of newly emerging infections and their treatments
•Specific disease prevention information
•Hundreds of medication tables, with indexed trade names and updated prices – plus helpful diagnostic and treatment algorithms
•Recent references with PMID numbers
•Full-color photographs and illustrations (many new to this edition)
HERE ARE SOME OF THE MANY UPDATES AND ADDITIONS:
•Revised section on pain management at the end of life
•Updated ACC/AHA guidelines for treatment of valvular disease
•New ACC/AHA and Hypertension Canada blood pressure guidelines
•New FDA approved medications for treatment of breast cancer
•New colon cancer screening recommendations from the U.S. Multi-Society Task Force
•Acclaimed annual update of HIV/AIDS
•New classification of epilepsy
•Revised recommendations for treating hepatitis C virus-associated kidney disease
•Revised chapter on psychiatric disordersNew FDA approved medication for gastric adenocarcinoma 
•Updated information about treating spinal muscular atrophy
An aparitie: 2019
Autor: Stephen Mcphee, Maxine Papadakis, Michael Rabow
Dimensiuni: 17.8 x 6.4 x 25.4 cm
Editura: McGraw-Hill Education
Format: Paperback
ISBN: 9781260117431
Limba: Engleza
Nr pag: 1904